TunePad: Pick up code. Drop the Beat.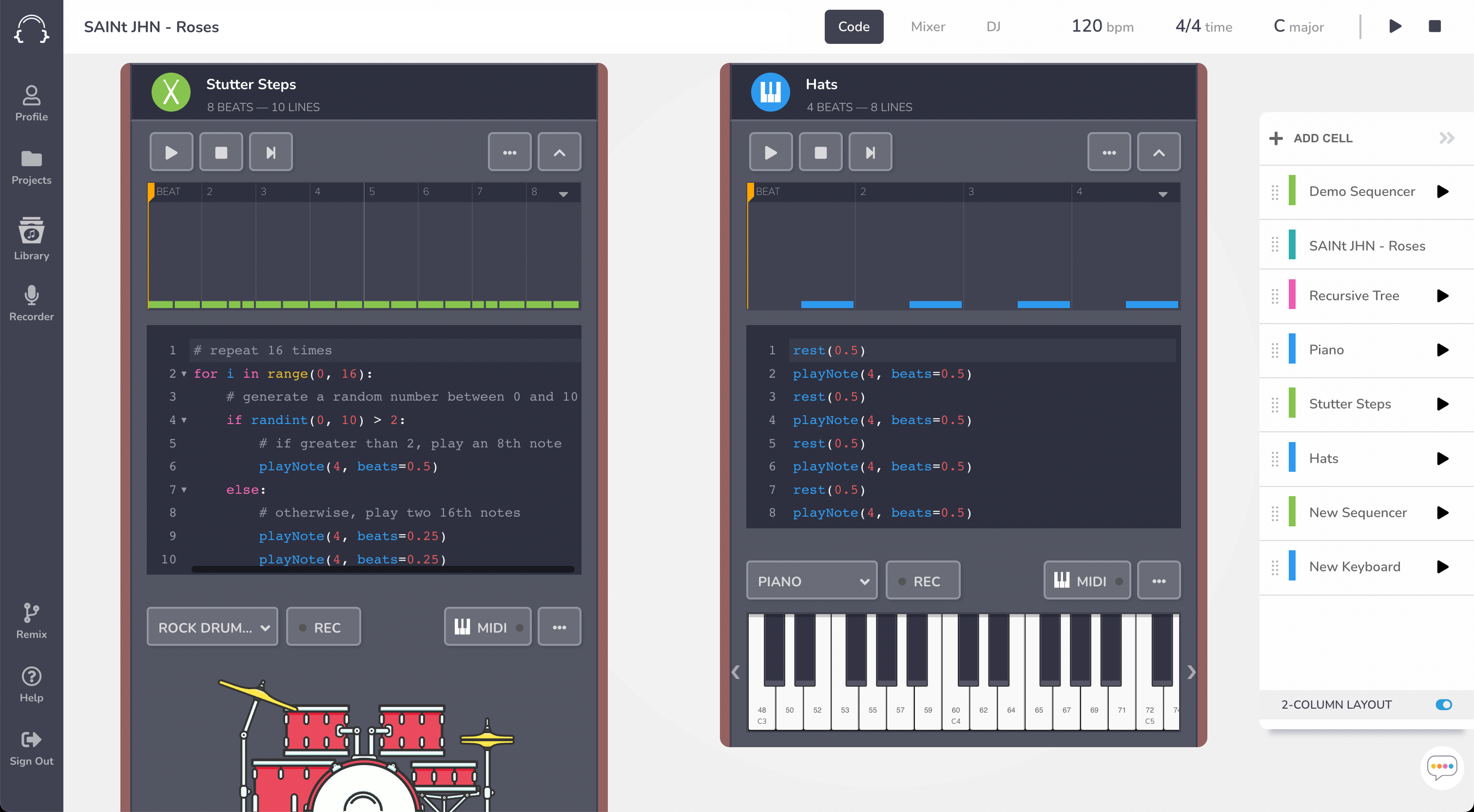 TunePad is an online platform for creating music with the Python programming language. TunePad projects combine playable musical instruments, text, lyrics, multimedia elements, and runnable segments of Python code that promotes playful learning. Somewhat like Jupyter notebooks, but for music.
Our step-by-step tutorials are perfect for beginners, and our advanced production tools can power music making for experienced users. TunePad was created and developed by the Tangible Interaction Design and Learning (TIDAL) Lab at Northwestern University with funding from the National Science Foundation.
We have iteratively developed the TunePad platform since 2018, testing with hundreds of middle school and high school learners in libraries, summer camps, and in-school enrichment programs. We have developed engaging curriculum and compiled resources that will enable you and your organization to successfully kickstart and run TunePad based STEAM programs.
There are two TunePad bundles that are available as turnkey solutions. However, if you need further information, or if you need a custom bundle, please get in touch with us via email at support@tunepad.com.
| Camp Bundle | Classroom Bundle |
| --- | --- |
| Ideal for up to 10 students | Ideal for up to 25 students |
| 5 MIDI controllers 1 | 10 MIDI controllers 1 |
| 10 Curriculum booklets | 25 Curriculum booklets |
| 2 Books2 | 5 Books2 |
| 10 Headphones 3 | 25 Headphones 3 |
| Email Tech Support | Email Tech Support |
| - | 5 hours of Tech Support via Zoom |
| Free U.S. Shipping 4 | Free U.S. Shipping 4 |
| Price $2299 Buy | Price $4899 Buy |
1 TunePad supports WebMIDI. Learners can plug in a MIDI controller and play the programmable instruments. We include MIDI controllers that are guaranteed to work well with TunePad.

2 Paperback book - Introduction to Digital Music with Python Programming

3 Over-the-ear style headphones.

4 FREE standard shipping to the 48 contiguous United States and flat rate shipping to Alaska, Hawaii and U.S. Territories.